Our teachers know their students and work with them to help them realise their potential as learners. Our focus on authentic learning and authentic assessment ensures that we challenge our students to grow in their learning and achieve their personal best.
Throughout our community of Sydney Catholic schools, we have shown high performance of our students in measures such as NAPLAN and the HSC.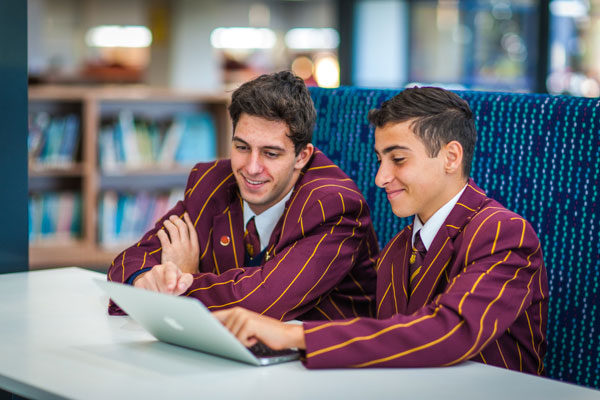 Learning at Holy Cross College does not just take place in the classroom. Students have excelled in a number of co-curricular activities that range from representative sport to cultural and creative events. These include:
Year 10 2020 STEM team placing in the top four schools for the NSW NRMA Futures Transportation Challenge

Senior Engineering Team 2nd place in 2020 and 2021 in SUBS in Schools NSW 

CaSPA Vocal Eisteddfod- Solo section, Band component and school choir- top 3 finish

2021 National Art School HSC Program- Year 12 student invited

2021 NSW Mixed Touch Football State Champions with Marist Sisters Woolwich

Army Cadets.
AMADEUS: SYDNEY'S MOST AMBITIOUS SCHOOL MUSIC EDUCATION PROGRAM
Sydney Catholic Schools' Amadeus Music Education Program is one of the biggest, most comprehensive and ambitious investments in quality music education ever undertaken in Sydney's schools.
At Holy Cross College, Ryde, the Amadeus program provides students in Year 7 and 8 with classroom music lessons, ensemble lessons and small group tuition and will be led by school classroom music teachers and specialist music tutors. These music tutors will bring professional experience from orchestras and ensembles around Australia and the world.
The system wide initiative draws on decades of research that shows learning an instrument and playing in a musical ensemble strengthens neural pathways in the brain and can:
significantly improve student academic success in areas including language and mathematical development
significantly improve student engagement, short- and long-term memory, attention, self-discipline and coordination
improve mindfulness and promote wellbeing in students